Visions of Escaflowne
is a Wiki for the Escaflowne universe.
The anime series follows a teenage high school girl named Hitomi Kanzaki, who finds herself pulled from Earth to the planet Gaea when a boy named Van appears at her school during his fight with a dragon. Hitomi finds herself caught up in the middle of a war as the Zaibach Empire attempts to conquer all of Gaea, while all she wishes to do is find her way home. The story follows Hitomi and the people she befriends as together they uncover the mystery of Atlantis. With the help of her mysterious psychic powers she becomes the key to stopping Zaibach's plans.
Please bear with us; this wiki is currently being renovated!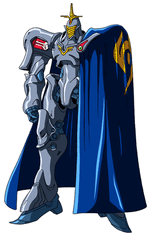 Scheherazade, Allen's Guymelef.
Contribute
Not sure where to start?
If you are new to wikis, you may want to read the Help pages.
New contributors are encouraged to create an account and help improve our wiki articles.
Adding content
If you want to help but you're not sure where to start, try improving the various stub articles by expanding them.